DO YOU WANT TO OPEN YOUR OWN LAUNDRY?
If you would like more information please fill in the following form, we will be happy to assist you and resolve any doubts.
Welcome to the mobile laundry of the future
Are you thinking about starting a self-service laundry business and don't have premises? Do you organise events and need a mobile laundry so you can move it from one place to another?
At primer we offer you the perfect solution. From now on, thanks to the BLUEWASHBOX modules, you can have a transportable self-service laundry with the latest generation machinery.
The CUSTOM modules are fully customisable according to the requirements, needs and requests of each client, which offer the possibility of being larger and having all of the machinery and accessories desired.
Transportable
self-service laundry
Custom design according to your needs
Highly efficient next generation machinery
Starting a self-service laundry business with latest generation technology has never been so easy.
BLUEWASHBOX Do you need a self-service laundry space in your business?
Starting a self-service laundry business with latest generation technology has never been so easy. In this video you can see all the advantages offered by our transportable laundry modules, as well as their strengths and machines, characterised by four values that distinguish our brand: quality, robustness, efficiency and high performance. Press play!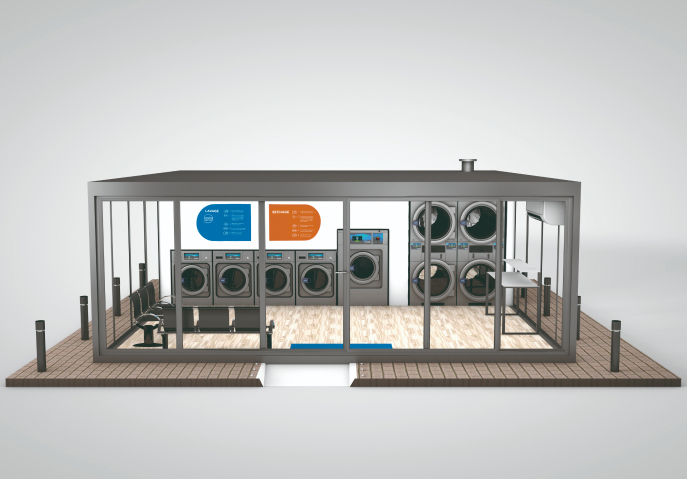 Custom-design the interior
The standard module is made to house all types of laundry machines. It has a very light design, and its structure is transparent, making it possible to see what is happening inside at all times. The machines are easy to handle, versatile, efficient and do not require a lot of maintenance. A safe investment for any business which quickly pays for itself.
Design your self-service laundry business to suit you best
The CUSTOM option makes it possible to design modules of between 4 and 12 metres in length and a height of 2.4 m, with whichever machines you like from our extensive catalogue. You will be able to choose the set up that best suit your needs. It's that easy!