WALL FLATWORK IRONERS Ø 325 MM
A high performance and maximum efficiency industrial laundry calender 
At Primer we are pleased to present our wide range of wall ironers and tumble dryers; this is an industrial laundry calender perfect and innovative for drying, ironing and folding flat clothes, created and designed to satisfy the needs of all types of clients.
We are looking at industrial clothes irons, designed to offer the best performance, as well as high productivity, they offer notable energy efficiency options and considerable time savings.
News in our wall ironers for 2021 | www.primer.es
News in our wall ironers for 2021 | www.primer.es
ELECTRONIC CONTROL
Simple and user friendly with an auto mode: automatic management of the ironing speed according to the selected temperature.
Digital speed and temperature display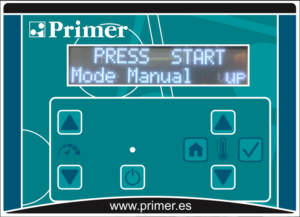 EFFICIENCY
Good heat conduction thanks to the roll material and thickness: greater control of energy expenditure
Automatic shutdown at 80°C (adjustable parameter)
Fumes circulation circuit from the bottom reducing energy consumption
ROBUSTNESS
Roll driving by speed inverter
Nomex quality ironing belts: high temperatures resistant
Panels in skinplate and stainless steel
Coiled felt and strips guide for longer lifespan
Nickel plating roll as option: anticorrosive, more durable
ERGONOMICS
Acoustic comfort : <65 dB
Appropriate operating height: 990 mm feeding belts
Mininal encumbrance: space saving, suitable for most areas
Electronic control with Auto mode: easy to use, optimized ironing speed
MAINTENANCE
Easy access to all components on both sides of the machine
Basic connections : electrical connection and air extraction
OTHERS
Dries and irons flat linen from a high spin washer extractor in a single operation
Front feeding and return
Built-in cool down system
Polished steel roll ø 325 mm
Working widths: 1400, 1600 and 2000 mm
Electric or atmospheric gas burners heating
CE Standard
OPTIONS
IMC: automatic regulation of ironing speed according to residual moisture
Nickel plating roll
Marine tension 440V III 60 Hz without N (electric models)
Tension 230V III 50-60 Hz
WOULD YOU LIKE MORE INFORMATION ABOUT THIS PRODUCT?