Flatwork ironers for professional launderettes: the advantages of using this type of machine
Optimise production and time in your launderette with Primer's wall flatwork ironers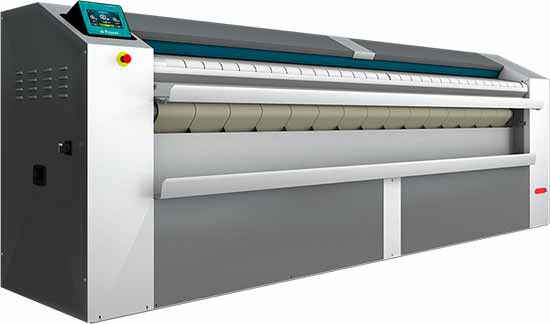 Details and finishes are very important for hotels and restaurants. They can make the difference between the success or failure of a meal or a stay. For this reason, we want to introduce you to our fantastic professional launderette flatwork ironers that we have available.
This is a machine that will optimise your production times as much as possible, as well as the level of perfection and neatness of the finishes of all the pieces in your hotel laundry: sheets, tablecloths, curtains, napkins, pillowcases …
Features of the Primer flatwork ironers for hotel launderettes
First of all, we have different models of flatwork ironers for launderettes, designed around four concepts that are key to Primer. High performance, energy efficiency, versatility, and finally, connectivity and productivity.
Based on these key points, we have launched equipment that achieves high levels of production. We want to introduce you to our 500 mm roller model, perfect for all those hotels that have to process large quantities of flat laundry on a daily basis.
The first thing to highlight is the incorporation of the new T2 microprocessor as standard. It is designed to enable the flatwork ironer to be controlled remotely from anywhere on the planet using a mobile device, thanks to PRIMER LINK.
In addition, it has a large 7" touch screen which is configurable in 38 languages and can show illustrative videos to users. It also includes free software to load personalised programs and closely monitor the traceability of each cycle.
In terms of its technical features, this latest generation launderette flatwork ironer comes with state-of-the-art innovations, such as a pressure roller system with Nomex ironing belts while others just have a roller. It is made of polished steel and fitted with a green finger guard, an automatic shutdown system for cooling that operates at 80º, a gas burner with two different working versions: atmospheric and radiant (the radiant version offers 25% greater production).
In order to achieve a higher degree of energy efficiency, we have incorporated a gas circuit in the lower part, which greatly reduces the annual energy consumption.
It also has a system that will allow you to pass the linen from the industrial washing machine directly to the flatwork ironer, saving you from having to dry it. As if that were not enough, the flatwork ironer can be complemented with an intelligent humidity control system, called SMART IRON, as well as a more resistant and durable chrome cylinder.
It is made of skinplate and stainless steel, is low maintenance and has easy access to all components.
Our flatwork ironer is also available in other roller sizes, such as 200 mm, 325 mm and we also have what we have called high-production flatwork ironers.
High production Primer flatwork ironers: the S, SP and SPE models
These are compact ironing machines that can adapt to the needs of any launderette or business.

We have three models available – S, SP and SPE– each with different size rollers. However, all three have a capacity to process up to 290kg of linen per hour, which in one day equates to more than 2000kg, and all this in a space of about 25m².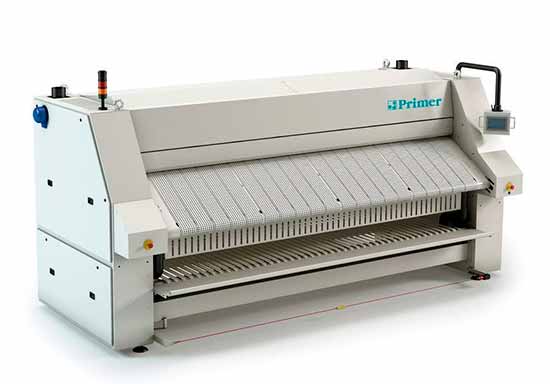 In terms of the components and technical features, the flatwork ironers have a powerful steam extraction system, an electric, gas or steam heating system, and a polished steel roller which includes a finger guard bar. They can be complemented with a one-way automatic feeder with clamps and automatic feeding belts, a suction unit, rear outlet with by-pass, monitored with a height of 850 mm and special voltage …
Contact Primer for personalised advice
With all these options available, we are aware that choosing your flatwork ironer is not straightforward.
If you would like to receive personalised advice and would like us to study the particular needs of your business or your launderette to avoid making mistakes and to enable us to identify which flatwork ironer best suits your needs, just contact Primer's sales department by filling in the form that you will find on this website, or by sending an email to the address info@primer.es, or by calling 93 812 27 70. Our specialist technicians will not stop until they find the perfect machine for you.
Let us finish by recommending that you take a few minutes to look at all our equipment for hotel launderettes. This includes both the professional and industrial high-spin washers section, as well as our entire line of dryers; single drum, double drum and heat pump.
We even have a water recovery tank, called SAVETANK, specially designed to save water and detergent, which can help to reduce your annual consumption by up to 70%.
As you can see, if you are thinking of improving and optimising the daily processes of your launderette space, by opting for our machines, you will be taking a step into the future in terms of quality, productivity, connectivity and energy efficiency.