Wall ironers and industrial flatwork dryer ironers for clothes
What is a flatwork dryer ironer and what is a wall ironer?
A flatwork dryer ironer for laundry is a machine designed to process large amounts of flat laundry, achieving ironing and final finishes of the best quality.
These machines are made up of a roll and heating system that allows drying and ironing to be carried out at the same time, optimizing the final process in washing garments. Its design is intended to provide front feeding and exit for all flatwork such as tablecloth and bedsheets.
We refer to special machines to deal with large amounts of ironing on a daily basis such as tablecloths, bedspreads, sheets, covers, small pieces, curtains. They are very useful in hotels, large restaurants, hospitals, care homes, dry cleaners, among other businesses.
A wall ironer for clothes accepts a lower degree of residual moisture, as it is only an ironer, not a dryer-ironer like the flatwork dryer ironer. Being smaller than flatwork ironers, they have a simpler and more intuitive operation, except for EXCELLENCE range in Primer that has the same P programmer as flatwork ironers. Wall ironers are ideal for businesses that do not have to process large volumes of flatwork and that require controlled investments.
News, advantages and strengths of our industrial flatwork dryer ironer for clothes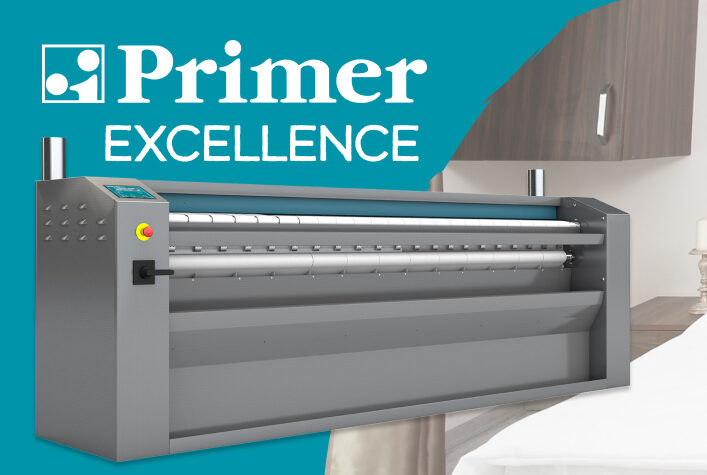 In this article we will tell you why it is important to have an industrial wall ironer for clothes. Ironing at an industrial level must be done with state-of-the-art machinery if you want to obtain a satisfactory result, and obtain more production in your laundry. That is why at PRIMER we have specialized in providing machinery for those businesses that must process both large and small amounts of flat clothing on a daily basis.
This is where our industrial drying and ironing equipment is necessary to give it the necessary quality finish. It is vital, then, to go through the novelties, advantages and strengths of the ironer and ironer models in our catalog in your laundry.
The main advantages and strengths for which you should bet on our equipment are the following:
Wide range with widths to adapt to the needs of each client/business.

Nomex models: with fleece and Nomex cover, which allows working at high temperatures, up to 190 ºC.

New EXCELLENCE models with electronic programmer P: temperature and speed adjustment, Auto mode: automatic speed adjustment based on the selected temperature, more efficient.
New EXCELLENCE models: + 33% more productive

SMART IRON as option in some ranges: humidity control that provides more efficiency and productivity

Ergonomic display position – improves vision during operation
Advantages of industrial wall ironers
PRIMER's range of wall-mounted ironers is the ideal choice for all those establishments that do not need large productions.
These industrial wall ironers are easy to use when there is not a large volume of flat laundry to process, such as restaurants, small hotels, hostels, etc. Electrically heated, in its two roller diameter versions (180 and 250 mm) they require a previous step through a dryer, to reach a humidity of 20-25% and thus achieve optimal ironing quality.
Their simple mechanism makes them reliable and durable, making them the cheapest but safest option for a small laundry. Easy installation and access on both sides for maintenance. They have a start and stop button to select between 4 temperatures. Ironing speeds are preset, not adjustable.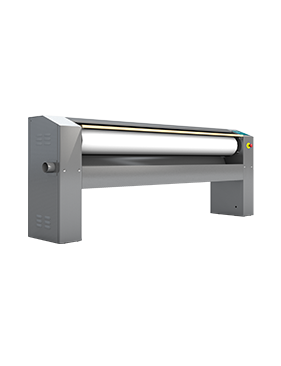 The compact design allows for space savings making it perfect for small spaces. In addition, it has the Nomex coating that makes it resistant to high temperatures. It has a large contact area of ​​the roller with the garments.
Strengths of PRIMER flatwork dryer ironer
One of the main characteristics of the flatwork dryers for industrial laundry is that they allow us to have the option of certain production capacities in reduced spaces. These are easy-to-maintain equipment. They have simple, reliable mechanics and have been manufactured with the best quality components on the market.
The PRIMER flatwork dryer ironer with a roller diameter of 325 mm and 500 mm are designed to achieve the perfect finish on sheets, tablecloths, napkins or pillowcases, significantly reducing production time. The 650 mm, have the objective of making the most professional finish possible to a greater amount of clothes to be dried and ironed.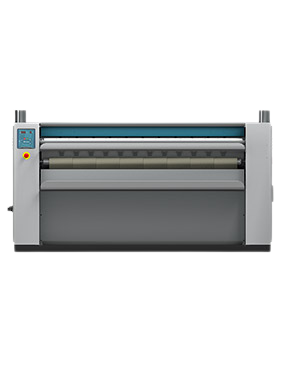 The production rate of these machines depends on the diameter of the roller and ranges from 12 to 120 Kg /h, and they can process clothes that come directly from the washing machine with an average residual humidity of 40%. On the other hand, the width of the roller adapts to the measurements of the garments to obtain greater performance, optimizing time even more.
The different models differ mainly in their physical characteristics: length of the rollers, working width, programmer and features.
325 mm FLATWORK DRYER IRONER
If we look at the 325 mm flatwork dryer ironers, we will see that they are ideal for laundries where it is necessary to finish with the highest level of quality in the finishes, an amount of smooth laundry between 400 and 900 Kg per day.
The EXCELLENCE  models have a new P electronic programmer, same as in flatwork ironers, that will allow you to regulate the temperature and ironing speed. 
Also the SMART IRON option in EXCELLENCE range is really interesting to achieve the maximum efficiency and productivity, as it measures the humidity of the linen and adapts the ironing speed.
500 mm and 650 mm FLATWORK DRYER IRONERS
he 500 mm flatwork dryer ironer has the T2 microprocessor. They also have an automatic stop system for cooling and the clothes can be introduced directly from the washing machine to the ironer without the need for prior drying.
Both the 500mm and 650mm can be complemented with the humidity control system, called SMART IRON, as well as a more resistant and durable nickel-plated cylinder. The incorporation of the new T2 microprocessor marks a turning point in terms of connectivity and practicality.
Why is it important to use flatwork ironers and ironers in an industrial laundry and dry-cleaner?
Primer's flatwork dryer ironers and wall ironers are machines conceived and designed to obtain the highest quality in the drying and calendering process.
It becomes imperative to control the entire process from start to finish. Doing so always translates into higher quality both in the hygiene and disinfection of the garments and in the finishes. The machinery provided by PRIMER guarantees a level of quality, productivity and energy efficiency that are worthwhile if you have your own laundry space.
Get the ideal industrial ironers and ironers for your business
You can check PRIMER's extensive catalog of industrial wall ironers and flatwork dryer ironers and even request information from our specialists without any commitment. You just have to get in touch by clicking on the following button or by calling (+34) 93 812 27 70.