PRIMER INTRODUCES ITS PROFESSIONAL LAUNDRY EQUIPMENT FOR 2020
Latest generation professional laundry: productivity, efficiency and savings in equal measure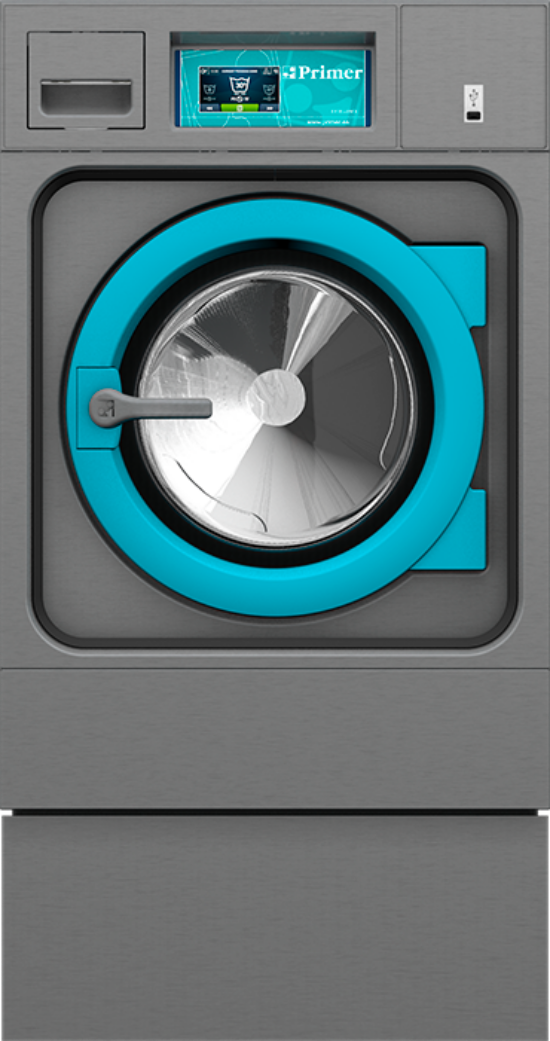 Here at Primer we would like to show you all of the features and strengths of a new line of professional washers and dryersfor 2020, designed in accordance with 4 concepts which are second nature to our R+D department: versatility, efficiency, robustness and high performance.
They are machines designed for professional laundries in hotels, restaurants, gyms, campsites, apartments, dry cleaners, nurseries… ultimately, for all businesses that require this service, but don't have industrial or very high workloads.  They can also easily be converted to coin operated models with a latest generation multi-payment system.
The truth is that the advanced features of this professional laundry equipment are just as good as the superior and industrial models in our catalogue. It is worth highlighting that they incorporate as standard the new T2, a microprocessor that enables an unlimited number of programmes to be created (with 29 pre-sets), along with the option to configure, import or export them as desired via a USB connection.  Furthermore, they have a practical 4.3" touch screen, where you can display explanatory or promotional videos, keep on top of aspects such as tracking and data analysis in real time, or work with Wet Cleaning programmes.
In addition, we at Primer can guarantee that they are tremendously efficient machines with the latest advances in saving energy, water and chemical products.
For example, the professional washer has a smart weighing system, a soap unit with 4 compartments, 8 standard dispensing signals and an elevated G factor of 450.  It also enables you to manually indicate the weight of the load, in order for the system to fully optimise the exact amount of water and detergent for each wash.
With regard to the dryers, among many other features and technological innovations, you will see they have a system called Smart Dry, composed of a smart humidity sensor which enables them to achieve the most efficient air flow and drying cycles. They also have a large fluff filter.
They have a special system for the optimisation of all types of mops: laundry equipment ideal for the service sector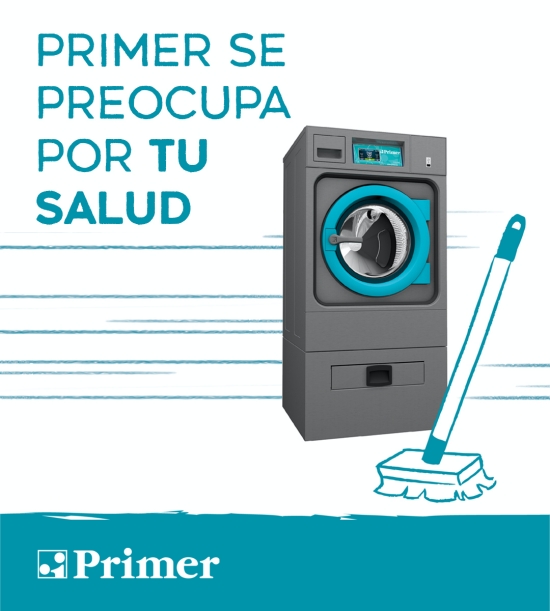 With this professional laundry equipment, you can greatly extend the use life of mops, thanks to a special system for their optimisation and washing. They offer optimal care, adapting the spin speed to obtain the desired % of residual humidity, with the aim of achieving the best performance possible from each mop. The holes in the drum are also well-suited to this. Furthermore, it should be pointed out that a special base for mops can be added, benefitting from a filter for solid particles, designed especially for Facility Services and for small businesses.
Ergonomic professional laundry equipment with minimal maintenance requirements
They are robust, ergonomic washers and dryers which are characterised by their durability, the exceptional quality of their components, their productivity and their minimal maintenance requirements. Manufactured in stainless steel, all of the components can be accessed quickly and simply, while at the same time they offer great connectivity, both for technicians and business owners, meaning that any setbacks and errors can be fixed remotely without any problems.

Lastly, if you have any questions, don't hesitate to contact our sales department. We know that deciding between our professional laundry systems might not be simple, and our work consists of listening to you, identifying the specific needs of your business and helping you to make the right decision.  You can do so by telephoning (+34) 93 812 27 70; sending an email to info@primer.es; or completing the contact form that you will find on this website.