A water recovery tank designed to complement our eco-friendly industrial washing machine
With SAVETANK we present you the perfect complement for our industrial eco-friendly washing machines with T2 microprocessor.
We have designed it so that you get the maximum efficiency and an annual water saving of up to 70%. We are talking about a tank that connects to our washing machines simply and without many complications, it requires a small space and it has one, two or three water tanks - depending on the model chosen-, enabling the washing water, as well as the detergents, to be recovered and used for future washes.
We have 80 litre tanks for LS-11/14/18 front washing machines and LCA-16/22 hygienic barrier washing machines, and we also have 150 litre tanks for LS-26/36 front washing machines and LCA-27/35 hygienic barrier washing machines.
Each recovery tank has a water inlet connection, steam outlet, water outlet and overflow or drain, as well as two sensors to detect the water level - minimum and maximum - on each tank.
It does not require maintenance tasks and, thanks to its microprocessor, it has pre-set programmes to clean the tanks and a practical and simple Plug & Play system for using it.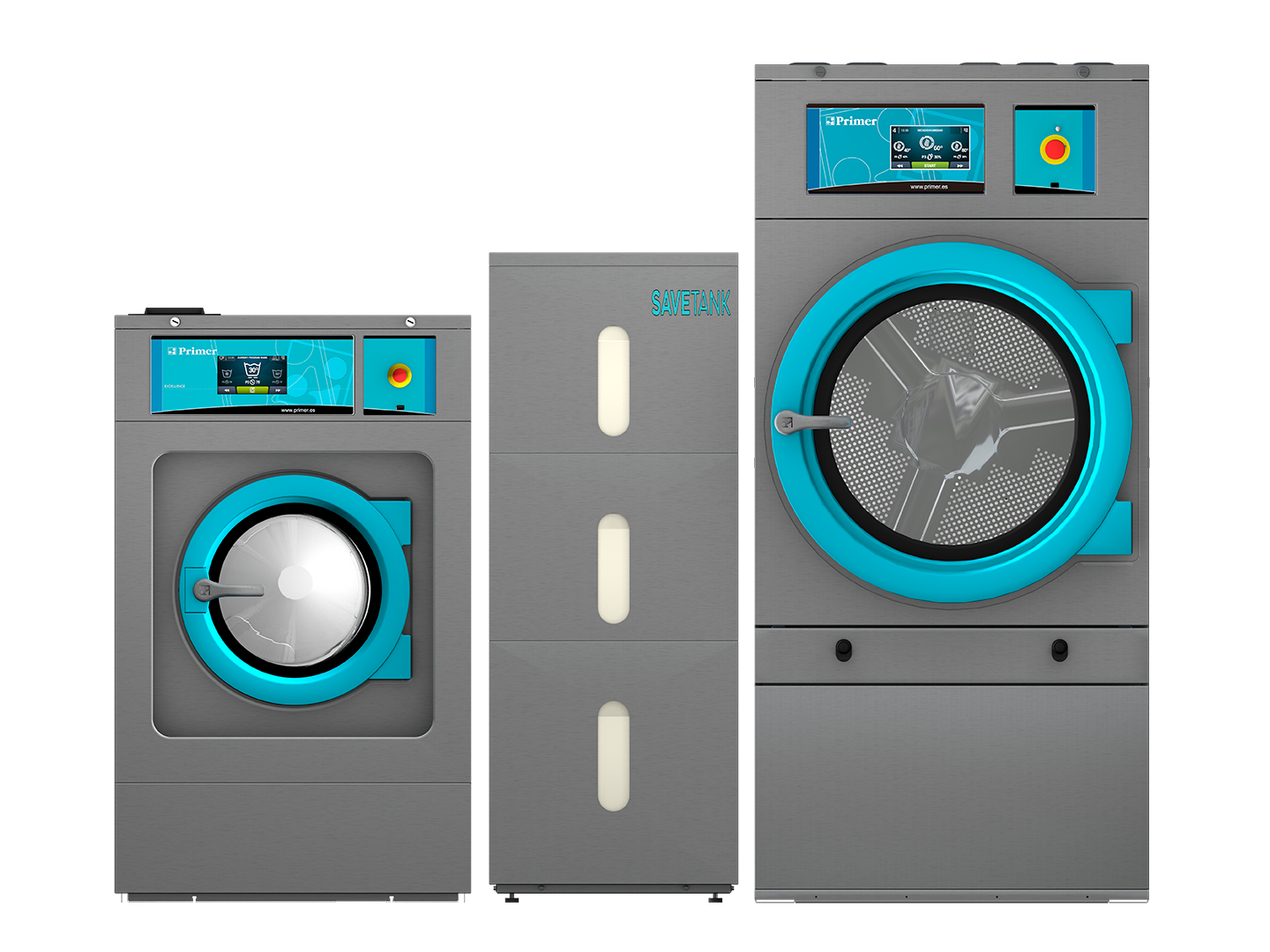 The new T2 is a microprocessor designed to mark a turning point in terms of energy efficiency
This new and revolutionary microprocessor is marking a before and after within the sector of industrial laundry.
It has been designed to offer rates of energy efficiency that have never been seen before. The ones that some of our washing machines include as standard have a large touch screen, can be configured in 37 different languages and integrate powerful software to control the traceability and data analysis in real time.
In addition, it has 29 pre-set programmes - some of them are eco-friendly and with clear energy efficiency parameters - and a USB connection so that all types of customized programmes can be loaded. All of this managed through a large touch screen that can display informative videos and further facilitate the use of the machine.
Would you like to talk to one of our sales representatives about our eco-friendly industrial washing machines and our SAVETANK water tank?
If you would like to receive all of the information about our water recovery tanks, you just need to complete the contact form that you will find on this website.
You can also call us on (+34) 93 812 27 70 or send us an email to info@primer.es.
We have an extensive range of commercial laundry equipment, with washing machines, tumble dryers and industrial ironing equipment with advanced features, high productivity and maximum energy efficiency.