A laundrette washing machine: connectivity, efficiency and maximum productivity
Primer's line of industrial washing machines brings you the best performance on today's market
Efficiency, ergonomics, connectivity, innovation … these are some of the words that perfectly define our line of state-of-the-art industrial washing machines and their advanced features.
If you are thinking of buying a launderette washing machine, please take a few minutes to read this article to see what our machines –available in three different speeds and designed according to strict criteria for energy efficiency and connectivity – have to offer.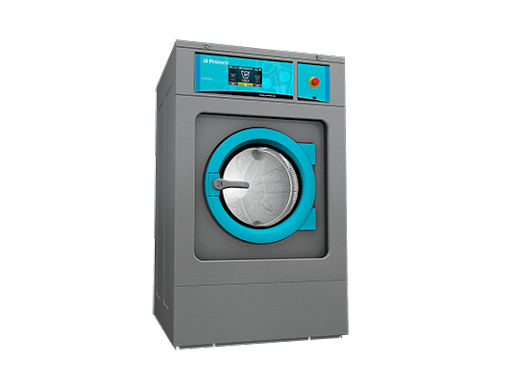 Firstly, these washers – whether low, medium or high speed – are equipped with the highest G-Factor on the market (G-Factor 450 on high-speed models, G-Factor 300 on medium speed and G-Factor 200 on low speed), which guarantees a decrease in residual moisture in each wash, minimising energy costs during the drying cycle.
Secondly, when it comes to energy efficiency, they offer a wide range of efficient features to ensure that wash cycles only use the required amount of water and detergents.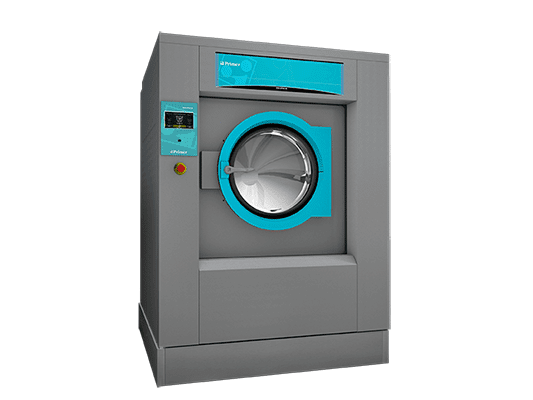 Let's start by pointing out the new T2 microprocessor integration as standard. It has a powerful software that enables strict control of the traceability of each wash cycle – something extremely useful not only for laundrettes, but also for dry cleaners and self-service laundrettes –, it has a large 7″ touch screen that includes educational and instructional videos in 37 different languages, it is equipped to work with WET CLEANING programmes, incorporates preset ecological programmes, has a remote communication system, 8 external dosing signals and the possibility of adding a further 6. In short, this microprocessor is ahead of its time and provides you with a long list of benefits.
On the other hand, if we focus solely on the design of these launderette machines, it should be noted that they have a system for recirculating the wash water, an intelligent consumption system. Using a standard programme they consume less than 8.2 litres of water per kg and cycle, and they also have an optimized weighing system, called Optimal KG, for manually entering the actual load.
The PRIMERLINK system's connectivity opens up a whole realm of possibilities and makes any management and troubleshooting tasks much easier 
Thanks to this new system designed to provide unprecedented levels of connectivity, our industrial washing machines provide a host of benefits for both distributors and launderette owners.
For example, for distributors, they provide remote technical management and incident resolution: machine monitoring, real-time error notification, traceability and statistics, remote desktop for technical service, software updates, renting and billing per cycle, machine geolocation, etc.
We should also highlight the advantages of these machines for laundrette owners, since, as far as the daily management of the laundry is concerned, they also enable you to create personalized programmes, programme all the cycles and pre-established programmes, control the traceability of each cycle, download data to an Excel file, geolocate the machines, etc.
For self-service launderettes, apart from the aforementioned features, they also include the option to programme timetables, control revenue and takings, create groups of machines according to different variables, etc.
There are also advantages for customers, such as the option to reserve a machine for a specific time, adapting to the specific needs of each type of customer (neighbourhood community, student residence, urban launderettes…), payment gateway via QR code, instructional or advertising videos with all kinds of promotions, e-mail notifications, discount and loyalty cards, etc.
For all these reasons, our line of industrial and laundrette washing machines has already become an international benchmark in the OPL and self-service laundry market.

Ergonomics and maximum safety for all laundry users
As health and safety at work has become a very important issue, our machinery is designed to make it as comfortable as possible for the users of an industrial or commercial launderette machine, as well as for the customers of self-service launderettes.
We would like to point out, for example, that our launderette washers have the widest door diameters on the market to make loading and unloading laundry easier. They also have a plinth to level the loading height – models from 11 to 36 kg –, open and close very easily and have the option to install a reversible door.
Additionally, one of PRIMER's main objectives is to make life easier for its customers by offering quality machinery and low-maintenance, brand-name parts.

Request more information or a detailed quotation for our line of launderette washing machines.

As a leading company in industrial laundrette machinery, we always offer all our clients technical and personalised advice throughout the purchase process.
If you have any questions regarding our industrial washing machines, just contact us; you can call us on (+34) 93 812 27 70, send us an email to info@primer.es or take a few seconds to fill in this form with your details. Simple as that!
'