Industrial tumble dryers with heat pump: the new models for 2020
Features and strengths of the industrial tumble dryers with heat pump
What characterises the working of a heat pump tumble dryer? The truth is that these new models have been designed to offer the maximum level of energy efficiency, along with the best quality possible in drying clothes. They enjoy a series of features that make them among the best and most advanced machines on the market.  To show them, we'll take the example of the EXCELLENCE model with heat pump, with a load capacity that ranges between 11 and 24 Kg.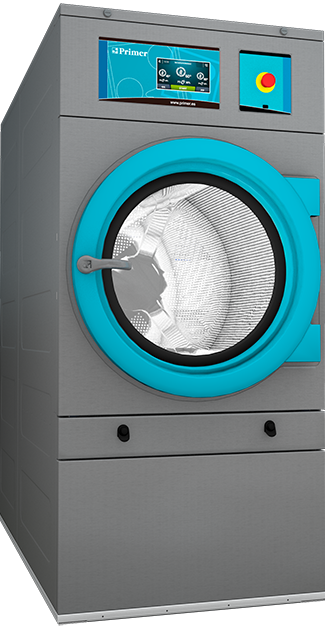 Industrial tumble dryers with heat pump: some of their most notable features
T2 microprocessor: 7" colour touch screen with the possibility of showing instructional and promotional videos; USB connection. Free PC software for programming, tracking, data analysis…
Wet Cleaning
Grey exterior casing, inox look.
Large door opening (180º opening)
Door with double glass as standard.
SMART DRY: smart humidity control sensor as standard.
Reverse-tumble: standard on all models.
Stainless steel drum as standard.
EFFICIENT DRUM: new efficient drum with embedded holes (except BASIC).
LINT FILTER: large draw as a lint filter and with improved air flow.
COOL DOWN: anti-creasing system at the end of the cycle.
Without the need for vapour extraction.
Low energy consumption.
This model uses water for cooling, which can be reused for washing.
Would you like to customise your industrial tumble dryer with heat pump?

At Primer, we would like to make it clear that this industrial clothes tumble dryer can be adapted easily and quickly to a self-service model, offering a high degree of customisation and is characterised by its great ergonomics, while also enjoying minimal maintenance tasks. If you would like to receive detailed information or you would like our customer service department to contact you, just call +34 93 812 27 70, send an email to info@primer.es, or complete the form that you will find on this website.
By choosing laundry machinery from Primer, you will be choosing progress, technology and efficiency in equal measure!