How does a high speed industrial washing machine work?
If you are thinking about buying a high-speed industrial washing machine…

In this post we will try to answer the following question…
How does an industrial washing machine work? How is an industrial washing machine different from a domestic one?
If you are thinking of buying an industrial washing machine, you may be interested in what we explain below.
The truth is that these are very frequently asked and common questions when the time comes for any business or launderette to buy an industrial washing machine. This is because a lot of the time, the differences between them are not well known and this can cause some confusion.
The main difference is that industrial washing machines have more durable components and are made of stainless steel or iron since they have to work 8 hours a day, 7 days a week. On the other hand, it is important to note that we are dealing with washing machines with a G factor of 450, something unthinkable in conventional or domestic equipment.
Another factor that characterises all of our washing equipment is found in the new T2 microprocessor which is specially designed and created in order to offer maximum efficiency without affecting the exceptional washing quality. It is designed to work with Wet Cleaning, can be configured in 37 different languages and has a large 7" touch screen where the user can view illustrative videos or advertisements. It has 8 standard dosage signals and has preset ecological programs. It also includes free software to monitor the traceability of each wash cycle, something extremely useful in industrial launderettes, self-service launderettes and dry cleaners.
But the most important thing is that thanks to this microprocessor, our washing machines are designed to work using IoT, with their own management system called PRIMER LINK. This allows you to manage your machine and your laundry remotely and easily from your mobile device, enabling you to solve problems, contact the technical support service, analyse all kinds of data …, among other stand out features.
Characteristics of this equipment: things you should bear in mind when buying an industrial washing machine
Industrial washing machines are designed to work in launderettes which usually have significant volumes of daily work. Consequently, it is important that they meet the highest quality and environmental standards, have a long service life, are ergonomic, easy to install and offer high productivity. They should be seen as a necessary investment when looking to optimise the daily workload of any launderette, improving the efficiency, profitability and productivity of its washing cycles.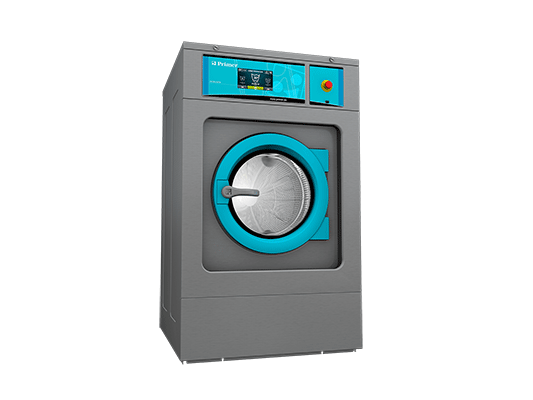 With this is mind, if you want to buy an industrial washing machine, you may be interested to know that all our models strictly comply with these characteristics.
Take, for example, our high-speed models, available in different load capacities ranging between 11 and 120kg. It is important to note that, as we have already mentioned, they enjoy a G factor of 450, as well as an OPTIMAL KG intelligent consumption system, a soap dispenser with 4 compartments and a hinged panel that offers very easy access to all components. They have large diameter doors to facilitate loading and unloading, an exterior body in grey skinplate, stainless steel drum and barrel and, finally, a comprehensive technical menu…
We conclude by highlighting that these are industrial washing machines designed to connect to a water and detergent recovery tank, called SAVETANK, which enables annual savings of up to 70%.
The Primer professional line: more reasonable prices with no reason to envy the industrial models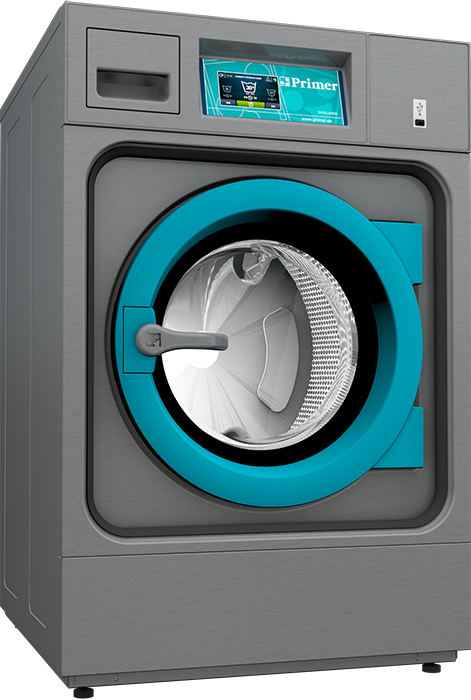 If the price of our industrial models prevents you from making an investment in your washing machine, our professional models may be more to your liking. The LP 8-10 T2 washing machine has no reason to envy its bigger sisters.
It too has the new T2, and except for the fact that in this case the screen is 4.3", the rest of its features are identical.
It has the same motor, speed variator and locking system as the industrial models, as well as an intelligent weighing system.
This model has a part behind a kick plate with a water recovery tank, which does not take up additional space except under the washing machine. Furthermore, just like in all the other models, the LP 8-10 T2 has a system called WATER SAVINGS.
It is low maintenance and very easy to clean and repair. The body is made of grey skinplate, the door is made from aluminium and the barrel, drum and blades are made of AISI 304 stainless steel.
Do you need more information or do you have any questions about our industrial washing machines?
If so, it is completely normal. Deciding on a high-speed industrial washing machine or any of our other models is a significant investment and you may have some questions.
If you want personalised advice or would like to request a detailed quote, do not hesitate to contact us either using the form you will find on this website, or by calling us on 93 812 27 70, or by sending us an email at info@primer.es.
We at Primer would like to accompany you throughout the purchase process, getting to know the specific needs of your launderette, and helping you to choose the industrial washing machine model that best suits your business. This is a crucial part of our work.
As always, let us finish by reminding you that we also offer industrial dryers and flatwork wall ironers, aimed at optimising and improving all the processes that occur in an industrial launderette.
If you spend a few minutes browsing our catalogue you will discover the wide range of specialised equipment that we offer you.