Cleanrooms are laundry places designed to achieve the highest level of hygiene and avoid cross contamination, always ensuring optimal degree of safety for staff and end-users. They are an essential part in all types of facilities belonging to agri-food, nuclear, chemical or pharmaceutical sectors.
Basically they are places designed and built with the aim to obtain very low levels of environmental pollution, thanks to the possibility of carrying out strict control of all the parameters that influence it.
primer has a long experience in this field and offers a wide catalogue of barrier washers for cleanrooms specially designed to avoid cross contamination and, manufactured under strict quality controls; They offer a great list of state-of-the-art features and specific options in order to guarantee a high degree of hygiene and safety. All models are equipped with new ET2 microprocessor, with a 7" touch screen, allowing traceability control, data analysis and the possibility to display illustrative videos. It is worth mentioning the many standard functions ensuring a high level of efficiency or the opposite doors system of our sanitary barrier washers.
primer offers models of barrier washers for cleanrooms with a load capacity ranging between 16 to 70 kg, with electric, steam or dual heating.
primer has spent many years meeting the expectations of its customers, and this is the best guarantee for clients looking for washers extractors for cleanrooms.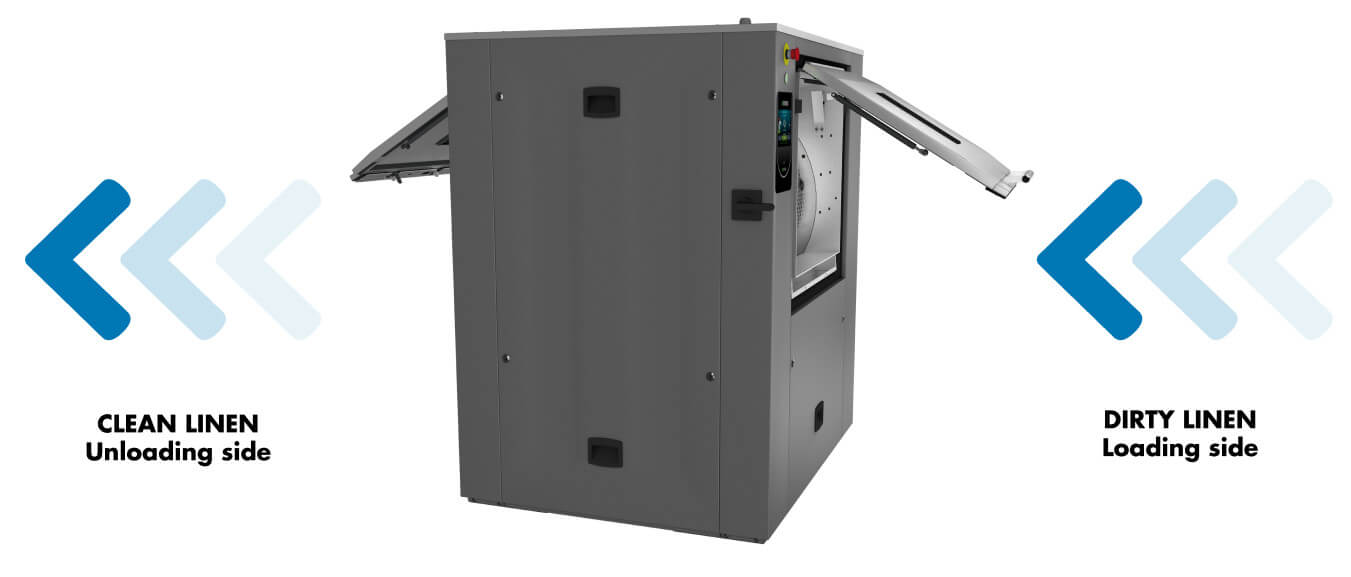 We offer sustainable solutions in laundry for cleanrooms
The full range of primer barrier washers and tumble dryers have been designed with durability, ergonomics and low maintenance in mind. They are compact and offer significant energy savings without never forgetting that hygiene is the most important point. Therefore they are manufactured with specific materials complying with cleanrooms, such as 316L stainless steel, electropolished vat and drum, HEPA filters, new ET2 control…
For example, tumble dryers use a HEPA filter to ensure that drying process is carried out with the cleanest air possible. Various sizes of HEPA filters are available depending on the requirements of each cleanroom.
The drying process is also a very important part in such a site, and it should be emphasized that all our dryers can be configured to avoid cross-contamination with specific components accordingly.
General speaking, our tumble dryers are especially flexible thanks to the new ET2 control, offer load capacities ranging from 11 to 80 kg, come as standard with a long list of features and programs designed to achieve an optimal efficiency and are available in electric, gas or steam heating to meet all the needs for high-quality drying.