THE BEST HEAT PUMP TUMBLE DRYER ON THE MARKET TODAY FOR SO MANY REASONS
The OPTIMA and EXCELLENCE lines of heat pump tumble dryers: drying quality and optimal energy efficiency
OPTIMA and EXCELLENCE are without doubt two of the best heat pump tumble dryers on the market today. They have earned this spot thanks to their excellent performance and design engineering which guarantees unparalleled energy efficiency.
At Primer, we are committed to innovation and to the development of more efficient, productive and environmentally friendly machinery for industrial laundry. Our reward is designing and producing tumble dryers like these with a long list of features to revolutionise drying. The moment you start using our tumble dryers you will see the difference and for many reasons.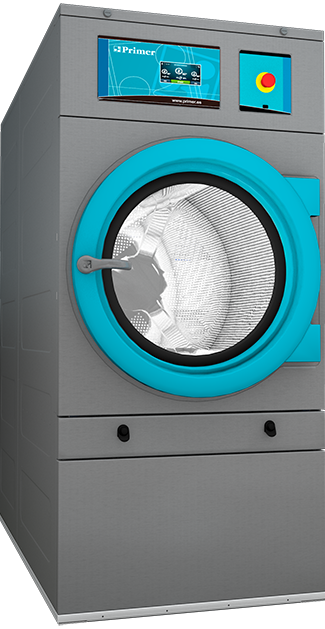 First of all, let's look at the new T2 microprocessor which is now a standard feature in both models. It consists of a large 7 "touch screen in the EXCELLENCE line, and 4.3" in the OPTIMA line. The T2 screen can show instructional or promotional videos which is very useful, for example, in self-service laundries. T2 provides real-time traceability and data analysis, it can be set in 37 different languages and comes with pre-set ecological and efficiency programmes. It also allows you to load your own customised programs.
Other outstanding features include; COOL DOWN- a system to cool down your linen at the end of the cycle and to prevent unwanted wrinkles, SMART DRY – an intelligent humidity sensor and an axial-radial air flow system, and a large fluff filter with improved air flow.

As you can see, like all of the best heat pump tumble dryers, you will save energy and time in equal measure, without ever forgoing unparalleled drying quality.

Primer heat pump dryers: ergonomics, connectivity and adaptability 
Ergonomics is another exceptional feature in all of our machines. For example, they do not have to be connected to the outside with vent pipes or hoses, all components are very accessible and they require low maintenance.
Thanks to their advanced connectivity features, you can solve incidents and technical problems remotely, easily and quickly wherever you are. Likewise, they can be easily adapted to be operated as self-service units with a straightforward addition of a coin-operation system or by connecting them to a payment centre.
So, thanks to cutting-edge features, design and ergonomics, we have earned our spot among the best heat pump tumble dryers on the market.
Find out more about our cutting-edge heat pump tumble dryers without any commercial obligation

We design our heat pump tumble dryers to meet and exceed the needs to handle laundry in a wide range of sectors; businesses, industrial laundry, laundrette services, hospitality sector, amongst others. Without doubt it is one of the best heat pump tumble dryers for sheets and other industrial linen.
If you have questions or would like to receive personalized advice, please call us at (+34) 93 812 27 70, or send us an email to info@primer.es.
You can also fill out the form that you can find on this website and one of our sales team will contact you as soon as possible.