WALL FLATWORK IRONERS: IDEAL IN A LAUNDRY WITH A HIGH VOLUME OF DAILY WORK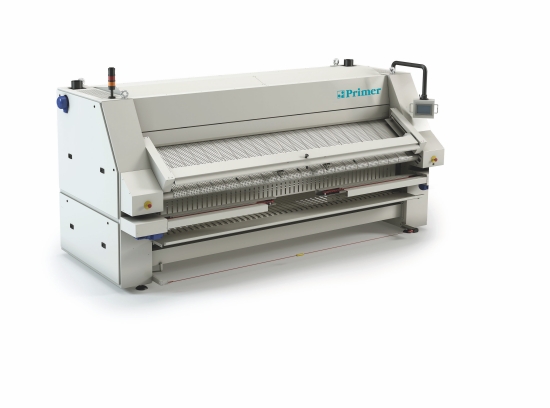 Especially designed for large hotels, hospitals or care homes with many guests
If you are thinking of buying an industrial flatwork ironer for bedsheets like the ones we manufacture at Primer, you may have to spend two seconds to see all the advantages of having this type of machinery in a laundry with large volumes of daily work.
The high production flatwork ironers that we offer you are the best way to optimize the maximum production times in your laundry. Both in a hospital and in a hotel the level of hygiene is something that is taken for granted, and with this industrial ironing and drying machine sheets will raise the level of your laundry, obtaining a great profitability in a short term.
A latest generation and high performance flatwork ironer
The feeding and exit roll of this industrial ironer can be 600, 800 or 1000 mm, offering at all times an ironing and folding speed that will impress you.
To this respect, it is important to highlight its pressure roller system with Nomex ironing bands, which cover 75% of its diameter.
On the other hand, it has the necessary security measures so that its operators work comfortably and with complete peace of mind.
It has two types of gas burner, atmospheric or radiant, giving the second more production, as well as a touch screen with a fully programmable microprocessor. In addition, it enjoys an automatic cooling shutdown system that activates at 80ºC. All this in a lacquered in white steel body and with a very careful aesthetic.
To summarize, we present you with a dryer-ironer that is essential in any modern laundry and with large amounts of clothes. If you want to get more detailed information, just contact the customer service or the sales department at Primer. Tell us what you are looking for and we will find the solution for washing, drying, ironing or finishing, perfect for the pace and needs of your business activity.